Goodbye, eyesore food bins! All it takes to dress up your pet's kibble storage spot is a little DIY ingenuity and elbow grease. Here are inspired storage ideas for your pet's food. Let's check 'em out!
Before You Get Started
Our foods remain freshest when stored in a cool, dry location. The food can be stored in the bag, but make sure to protect it from pests that may be attracted to the food (or hungry pets that may take an extra meal). Many customers choose to dump the food into an airtight bin or container.
This is certainly a reasonable way to store the food, but make sure to follow these simple steps:
Finish all of the food from one bag before adding another bag into the bin. If you have a small amount left, you can transfer it to a plastic bag so that you can proceed to step #2.
Wash the bin with hot, soapy water and dry thoroughly before adding a new bag of food.
Cut out the production code and "best before" information from the bag and tape it to the top of the bin so that if you have any questions or concerns, you can provide this information to the customer support department.
Store the bin in a cool, dry location. Extreme heat can cause the food to spoil, and excessive moisture can lead to mold growth in the bin.
Use That Empty Cabinet Space
Whether you're putting in new cabinets or have an extra drawer already available, make an out-of-sight (literally) storage option. Oh, and pro tip: we would recommend fitting the drawer with a plastic-lidded container to keep freshness in and pests out.
DIY Storage Stations
Even for moderately handy pet owners, building your own storage station is kind of a snap. In the example above, Addicted 2 DIY provides step-by-step instructions. While this particular model requires a little more work than other options, it is a nice, clean way to store pet food. Plus, you can customize the look of your bin to match your home's interior. How fetching.
Repurpose, Repurpose, Repurpose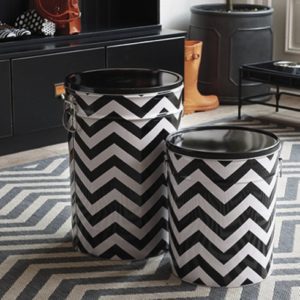 If you're one of the lucky millions to receive a big ol' tin of holiday popcorn, don't get rid of that tin! With a little refinishing, you can make it into a stylish pet food container that you can be proud to have around your house.
Don't forget the treats!
Your furry pal is well behaved, which means they deserve a treat! Hold your pet's treats in a mason jar next to their leash or food storage area to remind them that good behavior results in yummy goodness.
Share the Love
Share these fun ideas with friends on Facebook!